by Heather Stevenson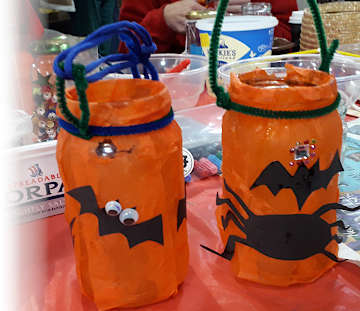 A very well behaved group of children and their parents came along to the half term children's craft afternoon at East Street Museum on Wednesday the 30th of October. The theme was jam jar crafts and they especially enjoyed making Halloween jars with suitable ghoulish cut outs onto the orange tissue paper covered jars. They also had a chance to make a seaside in a jar with a variety of shells and seaside drawings.The museum was quite busy as since the doors were open a group of adult visitors took the chance to visit the Museum along with several children and parents who were on holiday in the local area who had come for the craft afternoon. Thanks to our usual group of volunteer helpers a very enjoyable afternoon was had by all involved.
The East Street Museum is now closed for the season, until March, except by special appointment. But the Castle is open all year around!