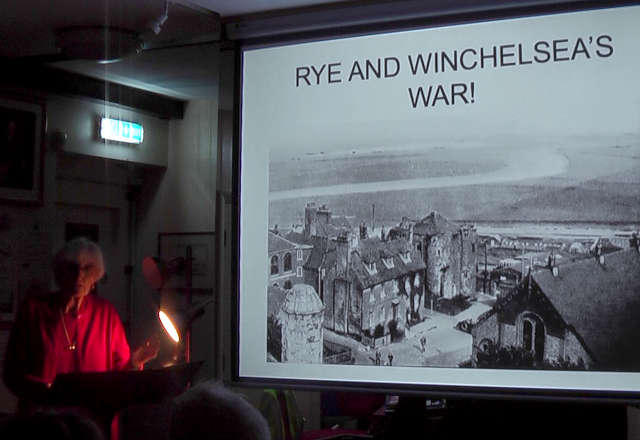 As part of the Museum's contribution to the Rye Arts Festival this year — and to mark the 80th anniversary of the beginning of WWII — Museum Association chairman, Jo Kirkham, gave a talk on "Rye and Winchelsea's War."
Some years ago, Jo launched a project to record the memories of local Rye residents on a range of topics, including the war. The result was a series of books that capture the flavour of the wartime experience in a way that formal history can't. Most of those with vivid personal memories of the war are no longer with us to tell their stories, but Jo wove bits of their lives in with the hard facts.
And the facts were very hard. The town was positioned to catch the fallout of the Battle of Britain, as planes from both sides came down in the surrounding fields. The area was deliberately targeted by bombing raids, especially aimed at the radar installation, but was also a convenient place for the enemy to dump unused bombs or fire off unused bullets on the way home. Rye took a pounding.
Rye was in a most strategic location. Operation Sealion, Hitler's planned land invasion of Britain, called for troops to ignore Dungeness initially and put in on the beaches at Camber, Winchelsea Beach, Fairlight and Hythe. Four divisions were planned to roll over Rye and Winchelsea on the very first day.
Jo walked us through the timeline of the war, month by month and year by year, and ended with a chilling series of "what if?" photographs of Nazis marching through our streets and swastikas hung on our buildings.
The East Street Museum was filled to capacity for the event, which was the first of the 2019-2020 talks season. The rest of the year's talks and topics can be found on this sites Events calendar.